Monitoring Frequency
Supply chain shocks are causing debilitating effects on large organizations, especially financially. This impact alone is enough to cause significant damage. With so much on the line, businesses need to know if their current supply chain risk management (SCRM) tools and processes are up to the challenge.
Our new whitepaper, "Supply Chain Disruptions and the High Cost of the Status Quo," based on a survey of 900 enterprise decision makers about their risk management practices, found:
Only 34% assess their global supply chain on a continuous basis.
The remaining 66% do so every month or less.
That means the majority or organizations are operating with large gaps in their supplier visibility and risk mitigation solutions. As discussed in a previous post, that vulnerability is costly:
On average, global supply chain disruptions cost enterprise-level organizations $184 million in lost revenue per year.
Assessment Methods
The frequency of measurement depends on the type of SCRM methods an organization uses —manual or automated. The former measures supply chains on an irregular basis and at one point in time, while the latter provides feedback in real time on a continuous basis. Nearly three quarters (74%) of organizations use manual methods at least some of the time, with only just over a quarter (26%) solely using automated methods.
There is a current reliance for infrequent monitoring in all sectors. The enormous financial impact many suffer proves current methods are ineffectual, and organizations need to focus on switching to more automated methods because they are still blind to many of the shocks occurring in their supply chain.
Therefore, it's not surprising that the majority of decision makers (63%) admit that they need to make improvements to their ability to continuously monitor their supply chains.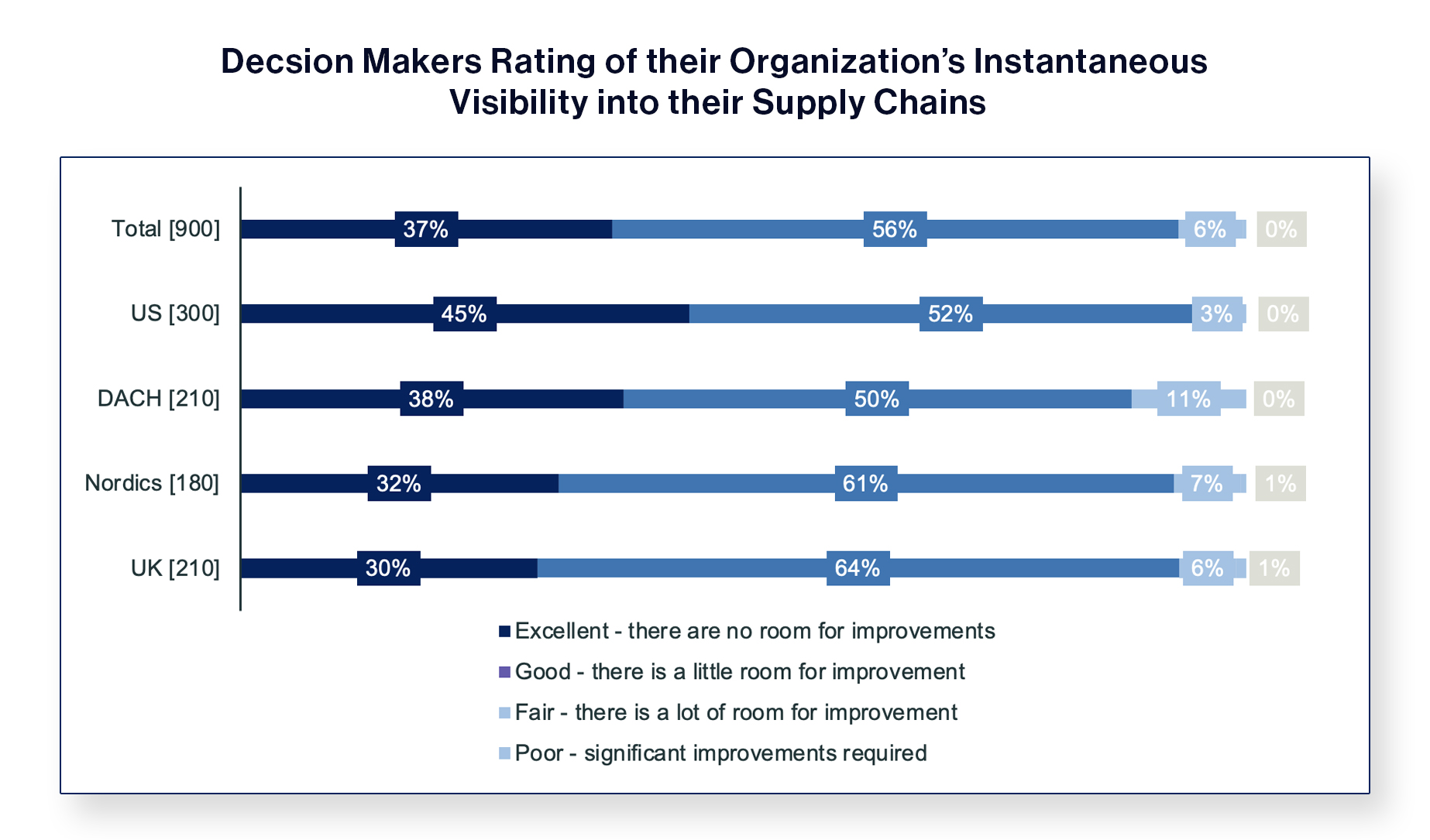 Visibility is currently a critical weakness among many organizations, especially the ability to see in-depth across sub-tiers in the supply chain. Automatic methods can alleviate this deficit in organizations' supply chain risk management systems. In fact, when asked to name the benefits of using a fully automated method would be, 64% rank supply chain visibility (ecosystem awareness) as the greatest benefit.
Automatic methods may help to reduce the financial burden brought about by disruptions, with two other benefits which rank highly including cost avoidance (56%) and cost reduction (56%). What is clear is that all supply chain decision makers (100%) believe there are benefits to using automatic methods.
Organizations should view an effective and robust monitoring system as essential. Current methods are likely inadequate at preventing large-scale financial damage as a result of supply chains shocks. Those who employ the most efficient methods are likely to be in the best position to protect themselves going forward.
Get More Data on SCRM/TPRM Practices and Improving Risk Mitigation
Our paper goes into more detail on the importance of visibility and supply chain risk management needs, as well as what current practices are helping organizations mitigate risk and which are not up to the task. Get all the insights here.