By Nicolas de Zamaróczy
Thousands of U.S. and European companies are facing supply chain disruptions as a result of the ongoing political violence engulfing Peru.
The six-week-long unrest has seen at least 50 people killed and 700 wounded, while exposing the country's deep societal cleavages.
Supporters of ousted President Pedro Castillo are demonstrating to secure his return to office, facing off against members of the Peruvian police and military who have routinely employed heavy-handed tactics.
The government recently extended a 30-day state of emergency in the capital Lima, as well as the regions of Cusco, Puno and Callao, which will further disrupt business.
Peru: a Key Commodity Exporter, Gridlocked
Peruvian companies, which are experiencing disruptions owing to the protests and associated road blockades, supply thousands of international businesses.
From a geographical analysis of the affected regions of Peru, Interos identified 2.95 million Peruvian entities whose business operations are likely disrupted.
Global relationship data in the Interos platform indicates that:
More than 7,500 North American companies have at least one Tier-1 (T1) supplier among the affected Peruvian companies.
More than 1,600 European Union and British companies have at least one T1 supplier among the affected Peruvian companies.
More than 116,000 North American companies have an affected Peruvian company indirectly in their supply chains at Tier 2 (T2), with almost 355,000 at Tier 3 (T3).
More than 144,000 E.U. and British companies have an affected Peruvian supplier at T2, with over 483,000 at T3.
Peru's main exports are agricultural products and minerals, and supply chains reliant on these could be hit hard. The Peruvian agricultural producers' association, for example, estimated in mid-December that its members had already lost $150m in potential exports due to the political crisis, and those numbers will have grown since then.
From an industrial perspective, Peru is the world's second-largest producer of copper and zinc, and also a major player in silver and gold production.
On 12 January, a major Swiss-owned copper mine near Cusco was attacked by protestors, while a tin mine announced it was suspending operations for the time being.
While most of Peru's minerals are exported to China and other Asian economies, disruptions could affect commodity prices and inputs availability worldwide. This would be a blow for downstream industries as well as direct purchasers—copper and silver are both widely used in renewable energy and vehicle manufacturing, while zinc is critical to the production of galvanized steel and iron.
Metals and Minerals Are at Risk

Source: Interos analysis of various industry reports
Transportation Infrastructure is a Main Target
Despite being primarily located in the country's more indigenous and poorer southern regions, President Castillo's supporters have nevertheless achieved a nation-wide impact though the deliberate targeting of critical transportation networks.
One of the protesters' main tactics has been blockading the highways on which national and international trucking depend. As of 17 January, the Peruvian Ombudsman's Office reported 96 roadblocks, across 14% of country's provinces, primarily in the country's lightly populated but mineral-rich south.
Since the start of the crisis, all of Peru's airports have experienced temporary closures, rail service in the country's south has been suspended (including at tourist destination Machu Picchu), and commercial truckers continue to  struggle to enter or exit the key southern port of Matarani.
Cross-border commerce with neighboring Bolivia is at a standstill, leaving companies in eastern Bolivia scrambling to find alternate export routes through Chile.
Growing Polarization within South American Countries Complicates Friendshoring
Peru's ongoing troubles are part of a broader pattern of political upheaval within South American countries. In 2022, large-scale protests occurred in Brazil, Argentina, Bolivia, and even normally peaceful Chile, worrying NGOs that track political violence in the region.
While historically geopolitical tensions in the region were driven by differences between left- and right-leaning countries, increasingly the turmoil is emerging within societies themselves.
Political scientists use the concept of "group grievances" to understand how schisms between different groups in society — particularly divisions based on social, ethnic, or political characteristics — play a role in governance. Group grievances in Peru are currently the highest among all major South American countries (see chart).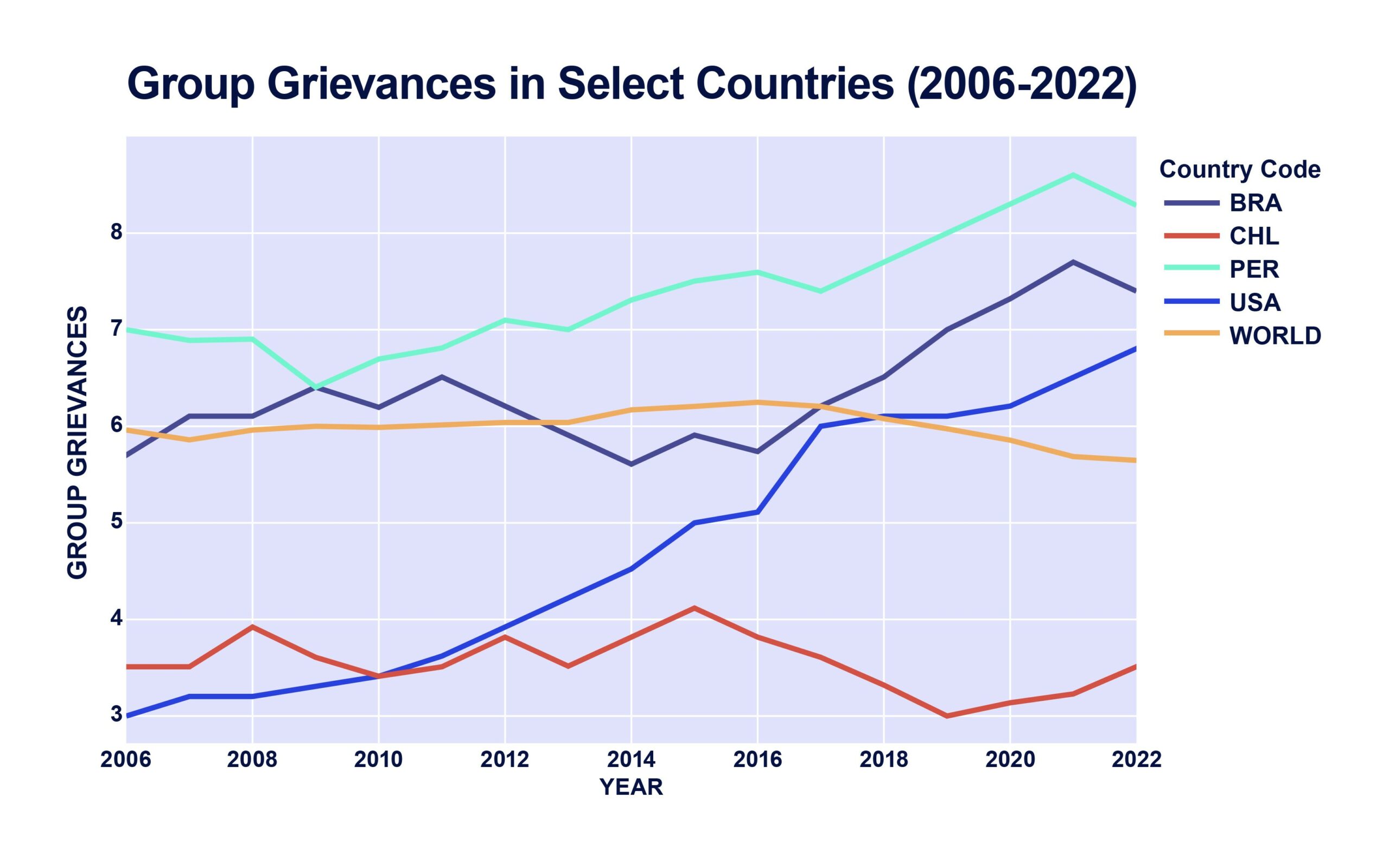 Note: Group grievances scores range from 0-10, where 0 = best
Source: Interos analysis of Fragile States Index data from the Fund for Peace
This increasing inability of many South American governments to maintain domestic order complicates hopes that the region could become a hub for "friend-shoring", the trend whereby Western companies are seeking to move production out of inhospitable locations to more stable and less geopolitically charged destinations.
Ultimately, any attempt at relocating production or sourcing sites must assess their long-term potential for political instability.
How to Mitigate Supply Chain Disruptions
Expect roadblocks to hit your supply chains in 2023. Chief Procurement Officers can mitigate impacts from the Peru protests by:
Better understanding their extended supply chain dependencies on Peru and identifying those at highest risk of being disrupted.
Discussing the impact of the protests with T1 suppliers, with an eye towards developing business continuity plans and workarounds where possible/needed.
Cultivating alternative sources for the products affected in other countries, and potentially looking to see if the orders/volumes in existing contracts need to be adjusted.
Invest in tools that can integrate geopolitical risk into their supply chain risk management process.