This is the final part in a five-part series looking at global supply chain risk factors, COVID-19, and economic reopening.
As just-in-time production and optimization dominated global supply chain strategies, strong corporate governance across the supply chain often was viewed as a 'nice to have' rather than a business imperative. This has changed over the last twenty years. In 2000, the Global Reporting Initiative was launched, expanding the notion of corporate governance to include sustainability standards and reflecting the growing concerns over environmental and social impact. Today, over 80% of the world's largest corporations use these standards, likely guided by emerging evidence that doing good is also good business. In fact, COVID-19 is sparking renewed interest and concerns over governance-related risks due to greater scrutiny over how companies handle disruption.
Corporate governance refers to the set of rules, practices, and policies that not only guide corporate decisions, but are used to measure a company and hold them accountable.  Environmental and social considerations combined with corporate governance (ESG) inform the ESG-related risk and accountability frameworks. This includes partnerships and the practices across the enterprise global supply chain. Companies commitment to ESG can impact their integrity and reputation through supporting (or hurting) sustainable development where they operate. Even before the pandemic, ESG-related risks had become a top risk priority due to rising concerns over climate change, unethical sourcing, corporate scandals, and compliance failures.
ESG and Resiliency
By integrating ESG risk into corporate strategies, enterprises are better able to anticipate regulatory actions or disruptions, which have a direct impact on a company's financial health. As the graph below demonstrates, companies with stronger ESG metrics performed better for investors than those that did not. This has continued during the pandemic, where ESG stocks have fared better than their counterparts and proven more resilient to the significant public health and economic disruptions. The scope of sustainability continues to expand to include the ability to withstand external shocks. While ESG tends to focus on limiting companies' environmental footprint, promoting employee welfare, and fostering robust governance structures; supply chain considerations play an increasingly large role in the risk calculus.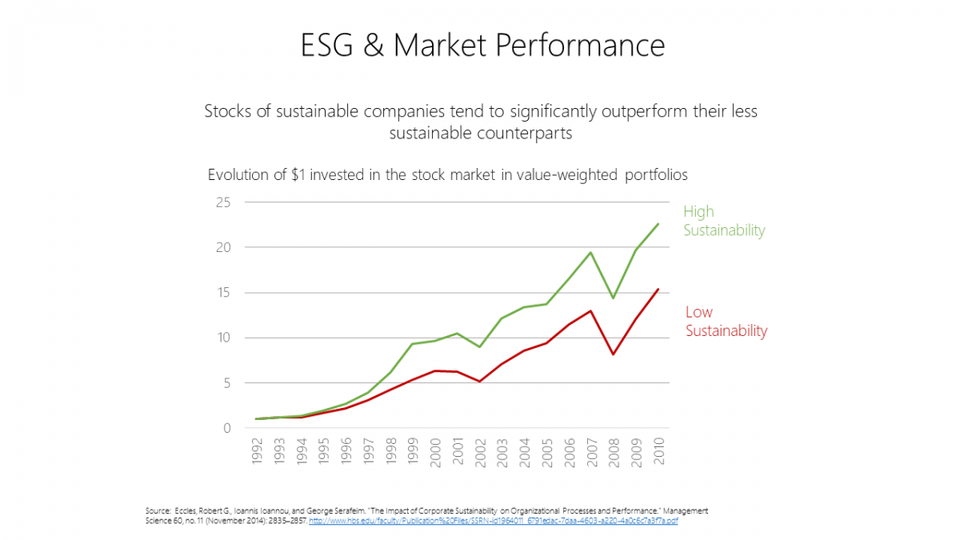 By focusing on sustainability, companies are often more resilient to significant shocks. Companies that focus on environmental awareness, ethical behavior, and sound corporate governance are better positioned to mitigate risk and avoid many of the issues detailed in the following section. In fact, the pandemic is reinforcing the need for resiliency through an ESG lens. For forward-leaning organizations, the pandemic will accelerate the growing emphasis on ESG-risk, as well as the need to optimize on longer-term resiliency instead of shorter-term performance. But with strong corporate governance, enterprises can achieve both.
Bad Governance, Bad Outcomes
Good corporate governance creates a transparent set of rules, controls, and accountability, which in turn foster corporate resiliency. Conversely, bad corporate governance not only impacts a company's reputation, but it fosters distrust and negatively impacts their bottom line. According to one survey, ESG-related risks eliminated $5 billion off the value of large US companies. This included fines for sexual harassment, accounting scandals, and anti-competitive practices. As one analyst noted, ESG-related metrics are a signal of future earnings risk and volatility.
Supply chains are not immune from this volatility. From ethical sourcing concerns to forced labor to unscrupulous founders, as ESG-risks rise, corporate resilience and profitability often drop, leading to disruptions across supply chains, and reputational damage to those linked to the bad governance. COVID-19 continues to expose the necessity for full visibility across the entire supply chain, as ESG compliance is very low across sub-tiers of supply chains, and regulatory action shows little sign of subsiding.
Looking ahead
Many have questioned the necessity and feasibility of prioritizing ESG during such an unprecedented economic downturn. Based on the economic performance and resilience of those companies with strong ESG practices, the better question may be whether they can afford not to.
Many companies are stepping up to do their part during this crisis: Repurposing production to PPE, providing WiFi for hospitals, and funding research, effectively expanding the notion of corporate responsibility. Prior to the pandemic the 'E' of ESG garnered most of the attention due to the significant and growing impact of climate change. "Before it was one dimensional . . . focused on climate. [But] this current crisis has caused that to evolve to the societal aspect of the role of corporations," explains Bernard Looney, chief executive of BP.
The pandemic has left companies across the globe reassessing partnerships and risk strategies, with a growing urgency to build back better. That "better" includes better visibility and prioritization on ESG-risk across their supply chain ecosystem. As the pandemic has starkly exposed, companies with strong corporate governance and robust business practices are better able to handle this shock, and future shocks as well. The COVID-19 crisis has highlighted the necessity for sustainable and diverse supply chains, with visibility across all tiers.
The Interos platform monitors operational risk to assess its impact on extended enterprise supply chains. We are committed to continuing to monitor COVID-19 -driven upheaval and providing insight for businesses searching for the path to economic recovery and adapting to the "new normal." The next piece in this series will focus on the governance disruptions to supply chains, and how COVID-19 is impacting these risks.
To learn more about how we capture operational risks to your supply chain, visit www.interos.ai or check out our latest whitepaper Agile or Fragile: 5 Steps to Achieve Supply Chain Resilience in a Post-COVID World.
Dr. Andrea Little Limbago is a computational social scientist specializing in the intersection of technology, national security, and society. As the Vice President of Research and Analysis at Interos, Andrea leads the company's research and analytic work regarding global supply chain risk with a focus on governance, cyber, economic, and geopolitical factors. She also oversees community engagement and research partnerships with universities and think tanks and is a frequent contributor to program committees and mentorship and career coaching programs. She has presented extensively at a range of academic, government, and industry conferences such as RSA, SOCOM's Global Synch, BSidesLV, SXSW, and Enigma. Her writing has been featured in numerous outlets, including Politico, the Hill, Business Insider, War on the Rocks, and Forbes. Andrea is also a Senior Fellow and Program Director for the Cyber and Emerging Technologies Law and Policy Program at the National Security Institute at George Mason and a Fellow at the Atlantic Council's GeoTech Center. She is an industry advisory board member for the data science program at George Washington University, and is a board member for the Washington, DC chapter of Women in Security and Privacy (WISP). She previously was the Chief Social Scientist at Virtru and Endgame. Prior to that, Andrea taught in academia and was a technical lead at the Joint Warfare Analysis Center, where she earned the Command's top award for technical excellence. Andrea earned a PhD in Political Science from the University of Colorado at Boulder and a BA from Bowdoin College.