The Interos Ripple Effect
Interos detects and alerts customers to changes in financial, operations, governance, geographic and cyber risk  throughout their extended supply chains, so they can prevent disruption before it proliferates.

Interos customers are protected from supplier concentration, sanctions violations, illegal labor practices and unwanted data sharing.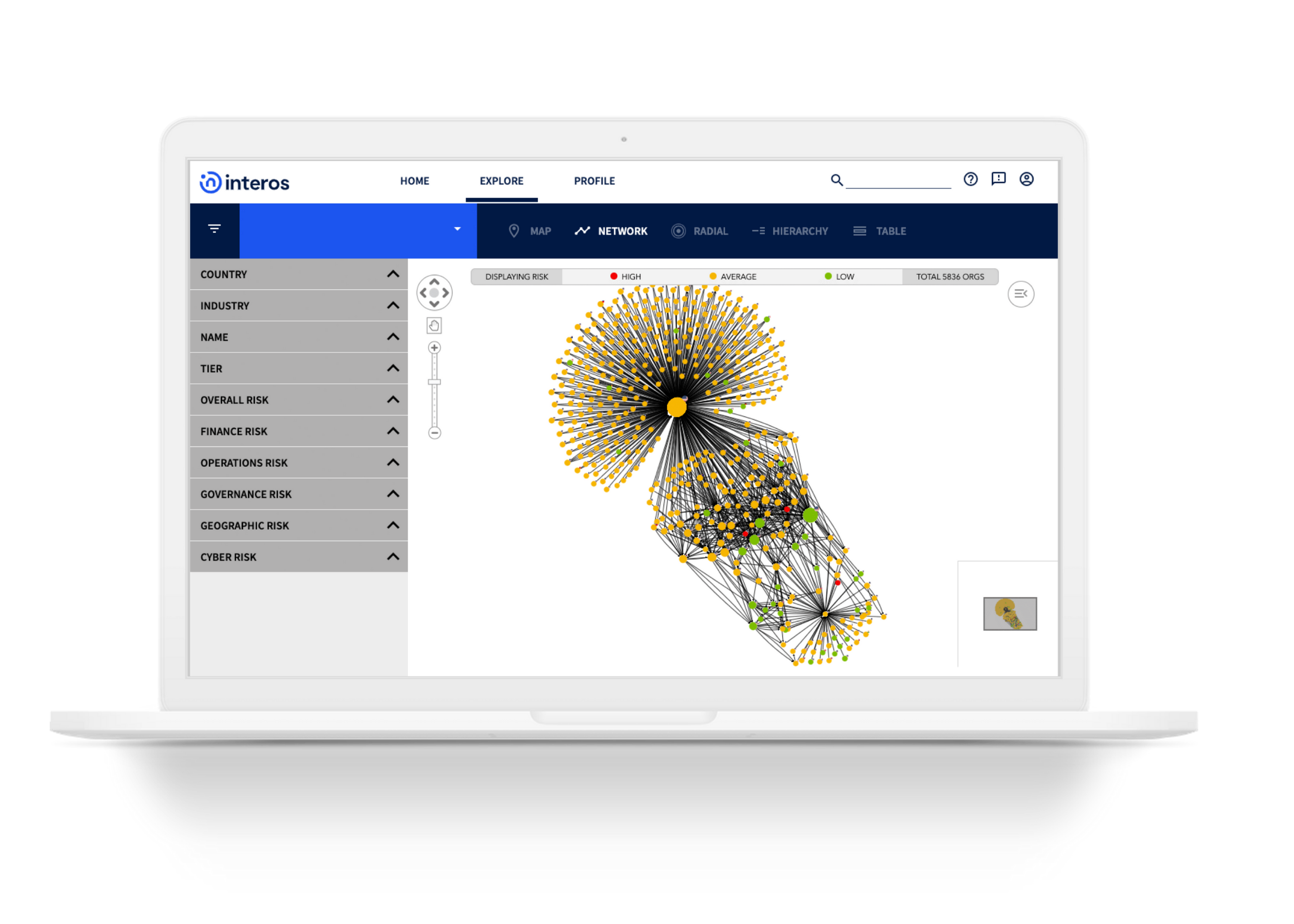 Identify Concentration Risk
See your entire digital and physical supplier relationship ecosystem so you can identify connections and address risks such as supplier concentration. 
Graph types include: 
Network

Geographic

Radial

Hierarchal
Enforce Sanctions Controls
Filter suppliers by country, risk factor, industry and tier so you can get to the information that matters most to you, fast. 
Risk factors include: 

Financial

Operations

Governance

Geographic

Cyber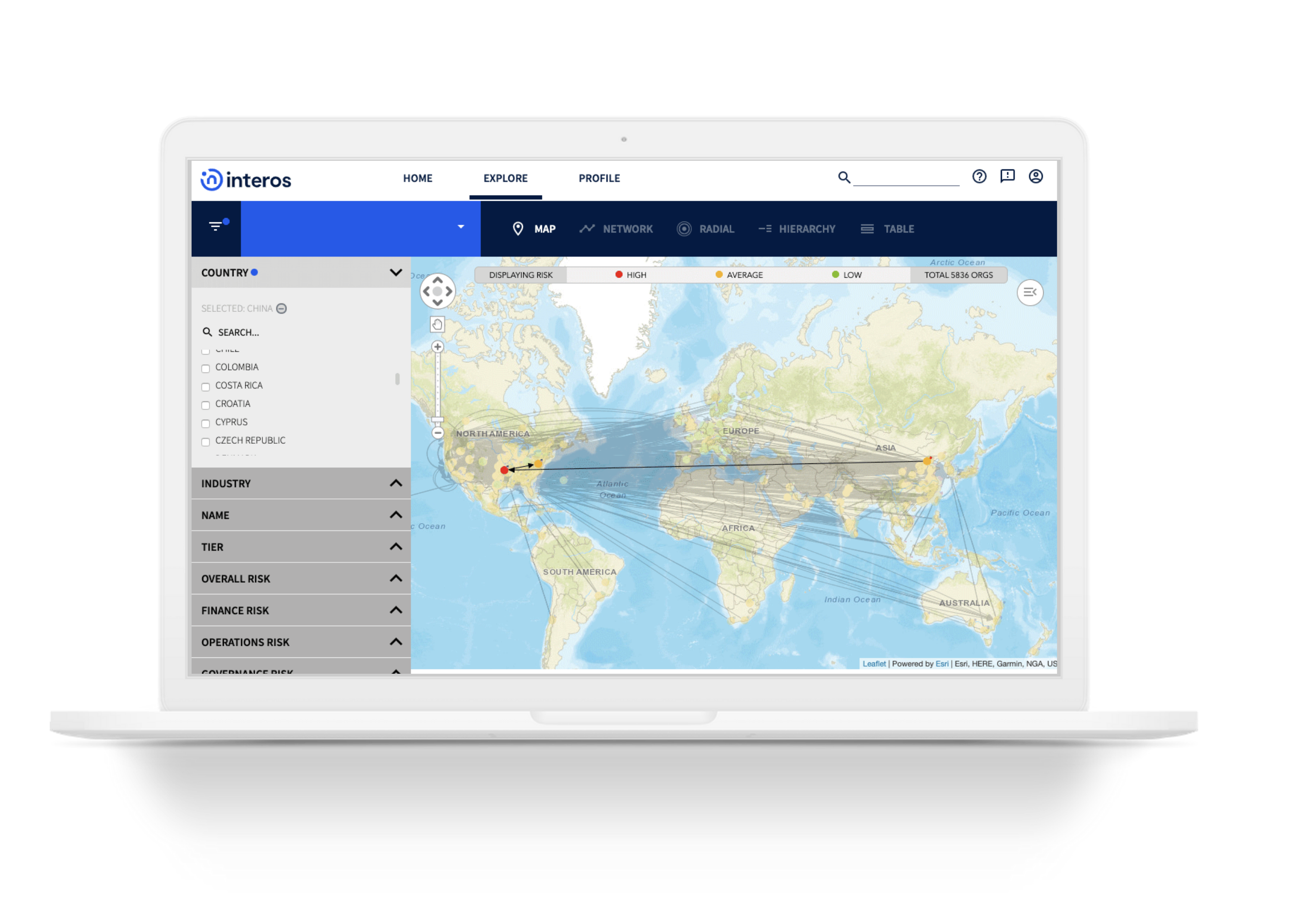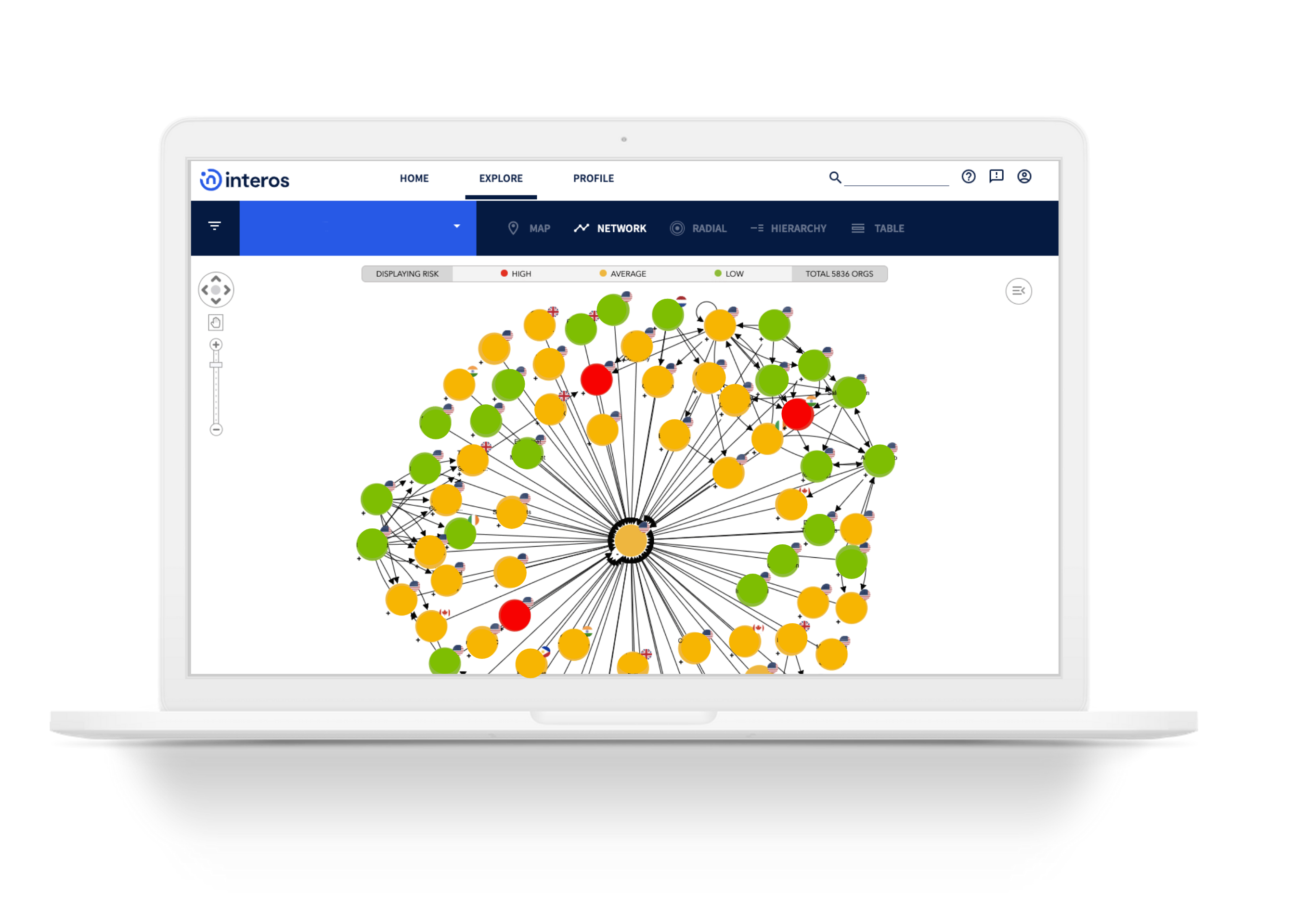 Proactively Monitor Black Swans
HIGH RISK OUTLIER DETECTION
Machine Learning parses 85,000 data sources for a real-time view and customized alerts of your highest risk suppliers. 
RISK INSIGHTS AND CONTEXT
Understand what's behind the risk scores for an individual company across all 5 risk factors. 
Risk breakouts include: 

ESG Concerns

Trade Compliance

Political Exposure

More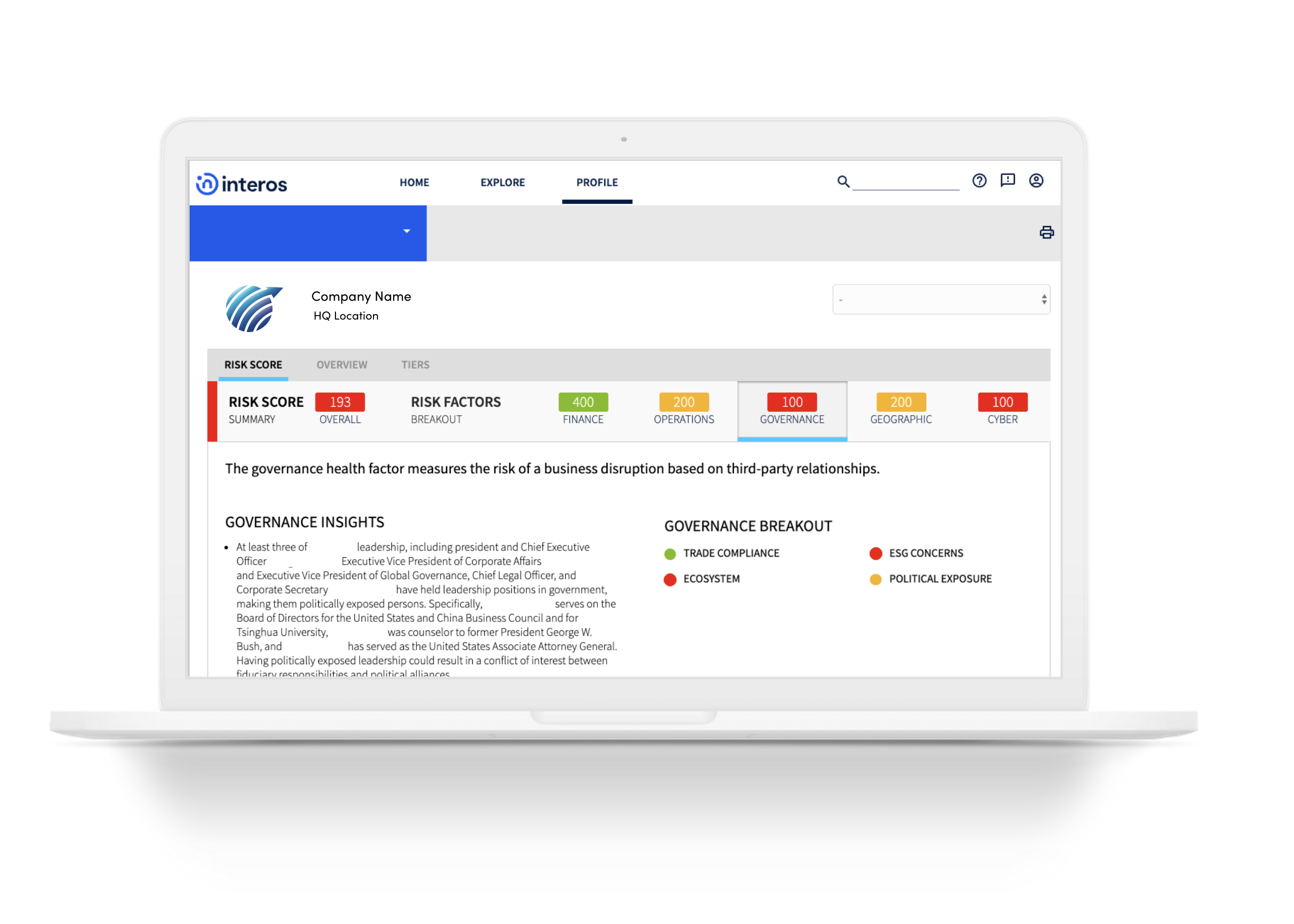 For the first time, risk and procurement leaders get comprehensive automation, from pre-onboarding risk assessment, to continuous monitoring for the life of relationships in extended supply chains.
Interos instantly discovers and visualizes your supplier ecosystem – from the first to the Nth tier. 
Interos continuously monitors supply chain risk using 5 key factors: Financial, Operations, Governance, Geographic and Cyber.
Interos identifies supplier concentration, unethical labor practices, cyber risk, and trade with restricted countries – all in real-time. 
Get business context, priority and alternative source options for an informed remediation – protecting brand integrity, and ensuring operational resilience. 
Unique Technology Advantage
Using numerous technologies, including machine learning and natural language understanding (NLU), Interos discovers extracts, classifies, scores risks and links relationships and events to individual suppliers. Alerts are generated notifying customers of events that impact their ecosystem and business.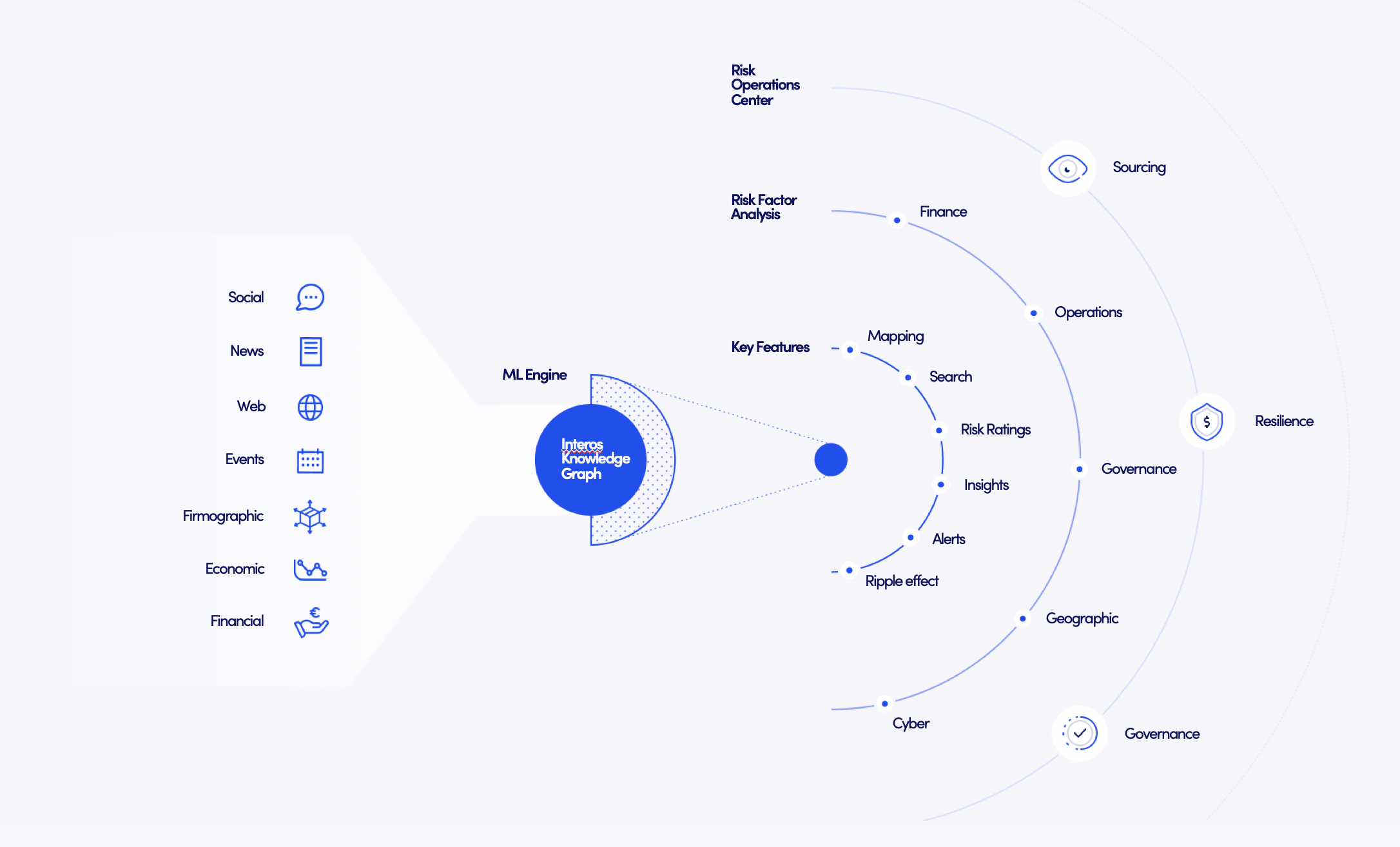 Due Diligence at Speed and Scale
Product and Supplier Search
One Pane of Glass, Multiple Risk Factors