By Geraint John
Wildfires, earthquakes, hurricanes, floods… just some of the catastrophic natural disasters that have devastated Libya and many other countries in recent weeks. The floods in Libya alone have killed over 11,000 people – with that number expected to rise. In addition to the tragic loss of life and destruction of people's homes, these events also cost companies billions of dollars and can severely disrupt their supply chains.
Earlier this month, for example, Volkswagen was forced to suspend production at its Portuguese operations until November after a small sub-tier Slovenian supplier of engine parts had its sole valley-based factory wiped out by flooding. The shutdown is likely to cost VW tens of millions of euros in lost productivity.
The financial impact of natural disasters is rising almost as quickly as sea levels and global temperatures. Insurer Munich Re calculates that total economic losses have exceeded $200 billion worldwide in each of the past seven years (see chart below). Less than half of these losses were insured.
Figures for 2023 are on a pace to continue this upward trend, with damage estimated at $110 billion in the first half of the year – 12% higher than the average for the previous decade.
Global Losses From Natural Disasters
US$ billions, inflation adjusted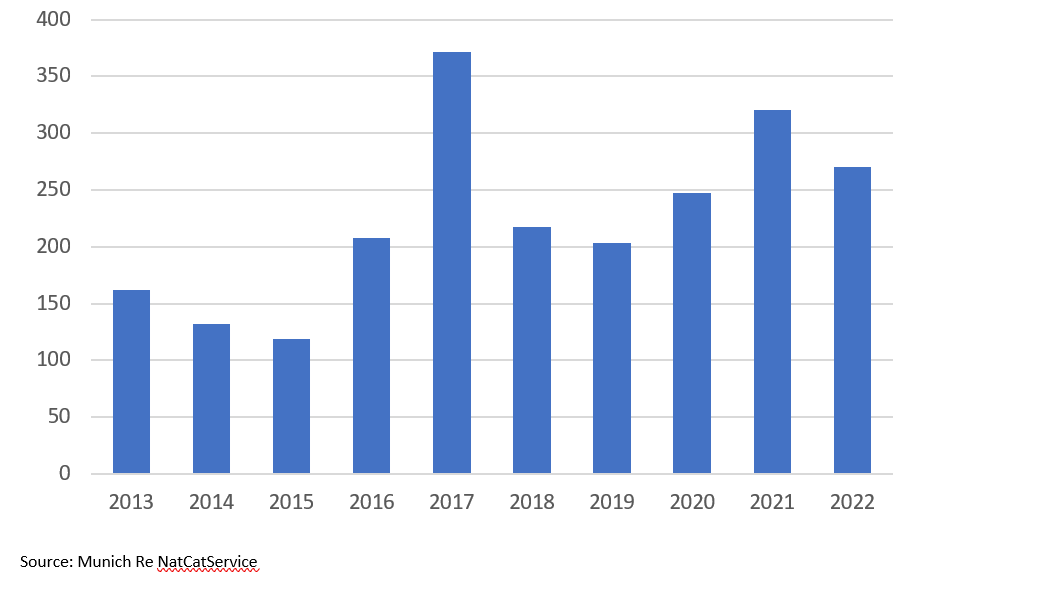 Supply chains bear much of this cost burden. Interos' recent survey of 750 chief procurement officers (CPOs) found that the cost of extreme weather and natural catastrophes in their supply chains in 2022 was, on average, $45 million per organization.
Although supply shortages and commodity inflation led their list of risk concerns for the next 12 months, more than one-quarter ranked natural disasters in their top five. And just over one-fifth picked extreme weather/climate change.
While it is extremely difficult to predict, let alone prevent, catastrophic supply chain disruptions, CPOs and their teams need to be keenly aware of suppliers in potential disaster zones and closely monitor regional events as they unfold.
2023: A Catalogue of Devastation
Climate change is fueling more extreme weather patterns and more intense natural disasters, as global air, sea and land temperatures increase. A new Interos whitepaper on catastrophic risk notes that July 2023 was the hottest month on record, according to the World Meteorological Organization.
While the massive earthquake in Turkey and Syria in February, which claimed more than 50,000 lives, has been the most destructive and costly disaster in 2023 so far, there have also been many damaging climate-related events. They include:
Key Supply Chain Hubs Susceptible to Natural Hazards
The supply chain impact of such events will, of course, vary depending on the physical presence of both upstream suppliers and downstream partners such as logistics providers. Interos' whitepaper highlights the natural hazard risks associated with 10 major global supply chain hubs. These include earthquakes in Indonesia, Taiwan and the key U.S. port city of Los Angeles; drought and rising sea levels around the Panama Canal; and coastal flooding risks in Shanghai and at Europe's largest port, Rotterdam.
Today, many organizations have limited visibility of how such events might impact their supply chains, and a lack of timely information about disruptions affecting critical suppliers. In Interos' recent survey, just 4% of procurement leaders believed they would be aware of a supplier disrupted by extreme weather or a natural catastrophe at all tiers of their supply chains within a 48-hour period (see chart).
Almost half (44%) acknowledged that they needed to make "significant" or "major" improvements to their monitoring capabilities, since they would have either zero visibility during this time window or only be aware of events affecting their direct (tier-1) suppliers.
This is a serious constraint, since the research also found that disruptions in 2022 more commonly originated at indirect suppliers (those at tiers 2 and 3).
Visibility of Extreme Weather Events and Natural Catastrophes
Awareness of a supplier disruption within 48 hours of occurrence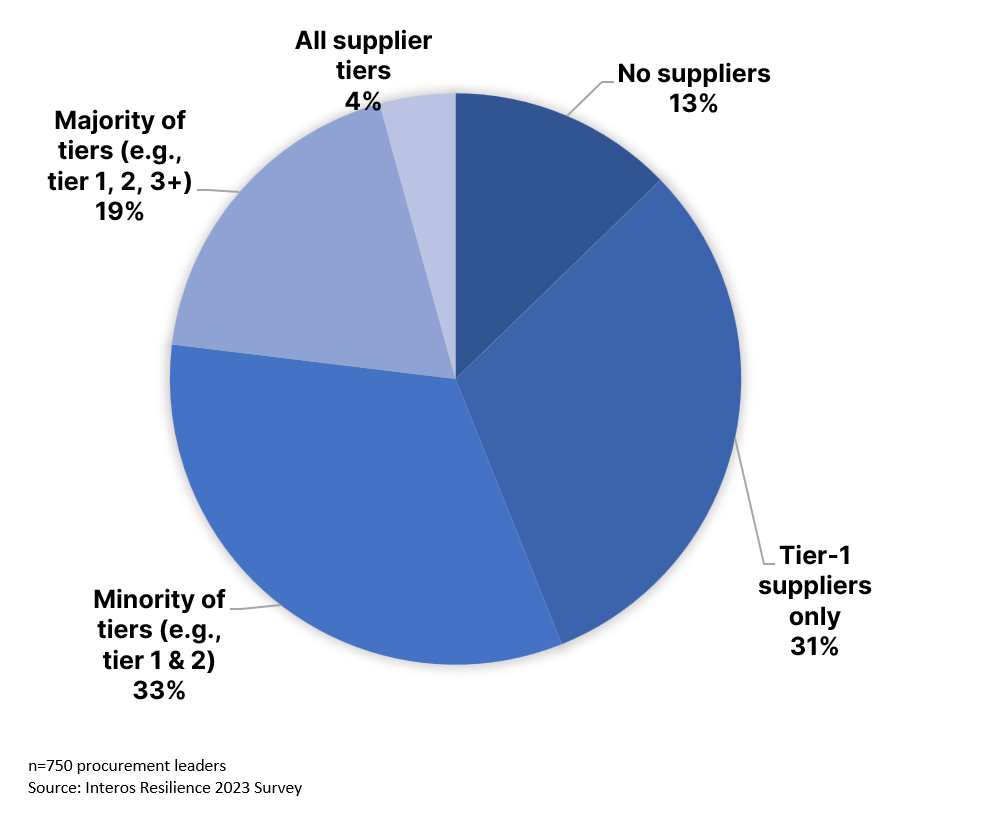 Adapting Supply Chain Strategies to the 'New Normal'
Overcoming these constraints means designing proactive assessments and continuous monitoring into supply chain and third-party risk management processes. Such measures include:
identifying which existing suppliers might be in areas more prone to natural hazards, and making adjustments to enable alternate locations and sources;
reviewing the geographic diversification of a supply chain to identify potential geographic concentration risks in disaster-prone areas;
integrating natural hazard risk as part of the evaluation process for new suppliers;
continuously monitoring natural hazard events to spot threats to operational business continuity faster and enable emergency response plans to be activated more rapidly.
To help organizations improve their visibility and awareness of natural disasters and weather-related events, Interos this month launched a new catastrophic risk model within its Resilience platform. Features of the new model include:
Comprehensive and timely hazard data: the most reliable meteorological real-time sources of information on hurricanes, earthquakes, floods, wildfires and other events.
Visualization of event impact zone: an intuitive world map that charts the path of tropical cyclones, impacted area of earthquakes and other natural hazard events as they relate to an organization's global supply chain footprint.
Real-time catastrophic risk alerts: timely notifications of natural hazard events happening around the globe that could potentially impact suppliers at tiers 1, 2 and 3.
Dynamic supplier risk scores: historical location-based risk ratings for specific entities, plus a time-limited impact score that quantifies and applies a severity of risk only during a natural hazard's duration and its aftermath.
With the upward trend in catastrophic events fast becoming the "new normal", organizations need to adapt their supply chain strategies to take account of climate change impact.
Those that embrace this reality and deploy new digital capabilities to help them will be more resilient in the face of whatever Mother Nature decides to throw at them in the future.